ACCESSIBLE KAYAKING EXPERIENCES WITH AQUASPORTS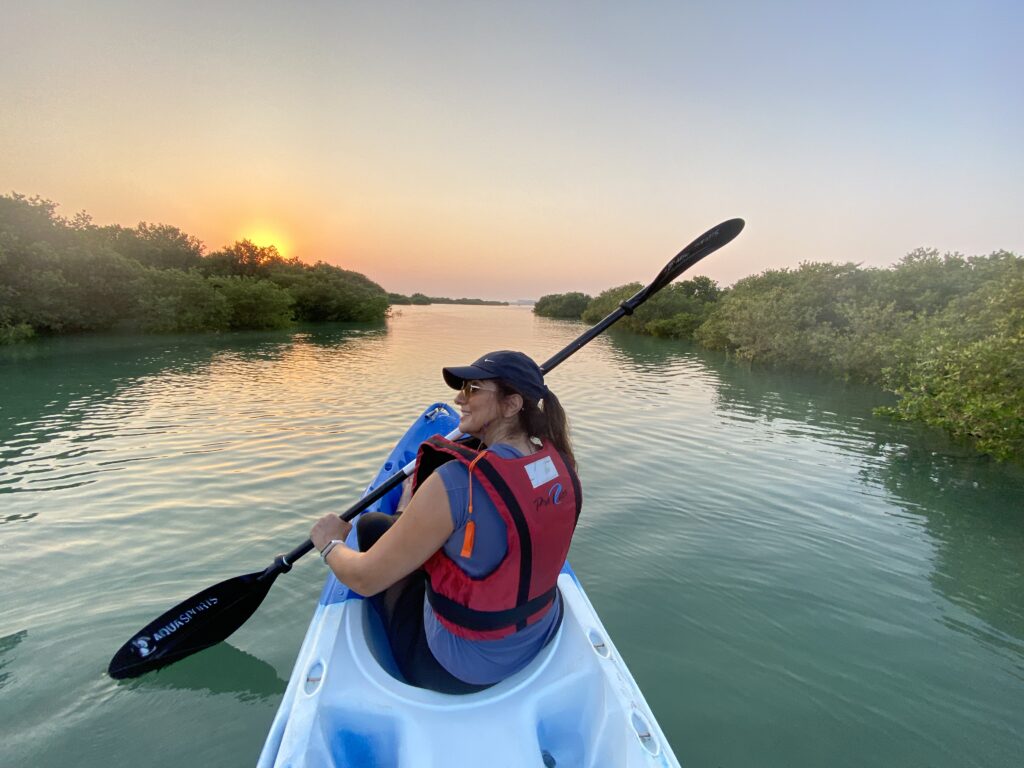 AT AQUASPORTS WE BELIEVE EVERYONE SHOULD BE ABLE TO ACCESS THE BEAUTIFUL NATURE SURROUNDING QATAR. OUR OPEN KAYAKS AND THE WARM, SHALLOW AND SHELTERED WATERS OF OUR MANGROVE CAMP ARE SAFE AND ACCESSIBLE FOR PEOPLE WITH A WIDE RANGE OF DISABILITIES.
OUR TRAINED GUIDES WILL ASSIST YOU WITH YOUR REQUIREMENTS AND WE TOUR FEES WILL BE WAIVED FOR SUPPORT COMPANIONS FOR DISABLED PEOPLE
WE ARE PROUD TO FEATURE IN QATAR FOUNDATION'S "QATAR FOR ALL" INITIATIVE which you can read about here
Paddling with a disability might sound like a challenge, but it shouldn't stop you from getting on the water. To help you, we've broken down some of the top worries people have when they want to try paddling for the first time. Take a look and hatch your plan for going paddling
How do I get started?
Just get in touch with our team and we will guide you through the booking process and advise how to access the camp and the conditions on your chosen day
Preparation is key.
Once you've decided you want to try paddling, think about things like what clothes you will need – we have a guide on our booking system but if you have any special needs (such as gloves) or if you just aren't sure then do feel free to call and ask
How much will it cost?
The pricing is listed on your booking in our reservation section – Please note that we understand your disability may require you to bring a companion and as a result we do not charge a fee for them to attend the experiences with you
Plan your journey.
Plan how you are going to get to the AquaSports camp in advance. Depending on the tidal conditions it is usually possible to park immediately adjacent to the camp however, at super high tides sometimes this isn't possible and it may be difficult to access the camp. Please do check with us if you have any mobility issues before booking.
Do I need to be a strong swimmer?
No, the aim of paddling is to stay in the boat! While you might get the odd splash of water, the plan should be to stay in your craft and relatively dry. On the off chance that you do end up in the water, you should be wearing a buoyancy aid which will help you float. Furthermore the waters in which we paddle are shallow and sheltered with a depth of no more than 1.5m.
What do I need to wear?
You don't need to go out and get specialist kit to start with, AquaSports should have everything you need. Just take a pair of clothes suitable for the weather conditions that you don't mind getting wet, swimming costume/shorts, a towel and change of clothes. Everything else should be provided. We do recommend some shoes that can be worn in water as the ground can be rocky in places.
What about changing rooms and facility accessibility?
AquaSports camp as fully accessible changing rooms and toilets. As above the camp itself can normally be accessed by car but in rare tidal conditions a walk of about 200m over sandy mud is necessary. Please call us in advance to check on tides and camp access.
I don't want to get trapped in a boat!
You won't! All AquaSports kayaks are sit on top open kayaks so there is no possibility of being trapped inside.
Can it be tricky getting on and off the water?
There are many ways that an instructor can work with you to make getting in and out of the boat as easy as possible for you. Discuss any anxiety or worries you have with them and they will work with you to make things work for you.
Go on give it a go!
AquaSports love our sport and we want to share it with you! Paddling with a disability is not as much of a barrier as you might think, and there are easy adaptions that can be made. Instructors will work with you to find out what you want to achieve and to get you there.